While Mr. Tree milks the most out of his illness and acts like a poor, weak little baby in order to manipulate me into doing his bidding, let's all squee over a kitty who is far more bad-ass.
Meet
The Bear
.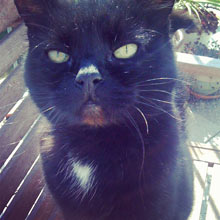 Photo by Tom Cox
The Bear is a tough little cookie, with wisdom in his eyes, who apparently often muses, "why am I a cat?" According to his owner, he has endured:
"...carbon monoxide poisoning, had a hole ripped in his throat by a feral challenger, developed asthma, lost chunks of both ears, gone awol for almost six weeks in south London, moved house a dozen times, and been rather brutally given his marching orders on countless occasions by Biscuit, my nextdoor neighbours' cat, whose Last Of The Summer Wine affection he pines for."
If The Bear can survive all of that and make it to the age of 17, I'm not even a bit worried about my Bentley.